Garage Door Repair In Hialeah
At Garage Door Repair Hialeah, we offer a wide range of garage door services. We are located at 4759 Palm Ave, Hialeah, Fl 33012 and can be contacted at (305) 351-1533. If you need adjustment/maintenance, replacement/installation, repairs, or any other garage door service, we are the ones to call. We always try to offer the most competitive products and services for our customers in Hialeah without sacrificing quality. In most cases we have the products you need in stock and can get the service job done in one day.
We offer the widest range of garage door related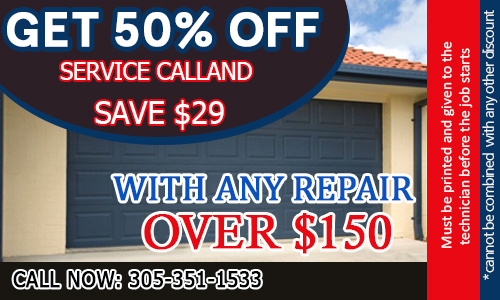 products in Hialeah. We carry garage doors, garage door openers, garage door remotes, and parts related to garage door repair. We specialize in Craftsman garage doors, but carry many other brands to suit any budget. Call us if you need to install or replace an aluminum garage door, steel garage door, or a wood garage door. You can call us for garage door windows and for the more unusual types of garage doors like glass garage doors. Do you just need to replace section of garage door because of an accident? We can handle that small replacement service as well.
We have a long list of brand name garage door openers to choose from. If you are unsure which drive you have or will need our qualified technicians will go over the pros and cons of the belt drive, the chain drive, and the screw drive for you. We can install any of those types and can suggest the garage door opener for your needs. We have the Craftsman garage door opener, and three of the more well-known brands: Genie, Liftmaster, and Sears. We also carry a few lesser known brands as well: Chamberlain and Marantec. We handle garage door opener trouble shooting too if yours is not working properly. No matter what your budget, Garage Door repair Hialeah has what you need.
If you are in the market for a new garage door remote, why not check out the brands we have in stock every day?? Liftmaster Security+ and Genie Intellicode are some of our most popular remotes. We also carry Clicker and Multicode.
Did we mention that we have garage door springs? These are often the forgotten part of a garage door system. Only until you need broken spring repair/replacement do most homeowners think of them. To avoid those issues you should consider our regularly maintenance lubrication service to keep them in working order. If you do need new garage door springs we have the three major types. For complex garage door systems we carry the torsion spring. But we also have galvanized garage door springs and extension springs.
A qualified garage door contractor like us can help you decide what type you need.
Finally, Garage Door Repair Hialeah is the garage door company to trust with your garage door repairs. We can handle any issue that may arise with your garage door. Bottom garage door rubber and Weather strip are two items that often need replacement. You can rely on us to have those items in stock always. We offer other basic garage door repair services like fixing a door off track which is a common occurrence with older doors. Garage door cables and tracks are the two areas where most garage doors have problems. In Hialeah we are the ones to call. We can help if you have a cable loose, cable snapped, a cable of the door dispatched from the drum or broken cable related problem. We also can replace garage track or repair bent garage door track if those are the issues you are having. Finally, fixing an emergency release that has been broken is a repair that all our technicians can handle fast.
In Hialeah if you have any questions, concerns, or problems with your garage door or its related products, call Garage Door Repair. We will help you in every way we can for a fair price.
Garage Door Repair Hialeah is focused on ensuring that the quality of our work stays high. We use powerful solutions as well as the best technology in order to transform properties. The high quality parts that we use are the bedrock of our services. As a great garage door contractor:
Read more